artisan brushes
We focus not only on the quality, but also the selfless values of our company reaching the hands of the customers.
Brand Story
Marketing expert Louis G, who majored in information engineering, met two fashion designers in Manhattan, New York, and started the creation of the new fashion brand SIXPLUS. He realized that makeup is a means for women to change their style, and that women use makeup to show their different looks and allow them to meet their diverse selves. With this in mind, Louis created SIXPLUS with the hope that women can explore and discover more aspects of themselves through the products.
FOUNDED IN 2009
SIXPLUS launched in 2009. It is a global beauty and cosmetics accessories brand specializing in makeup tools such as brushes and sponges.
Designed in New York and manufactured in Mainland China, we sell most of our products to Japan and the rest of Asia through well-established retail stores, as well as sell online globally mainly to Europe, the USA, and the Middle East.
INSPRING CHANGE
Our singular goal is to inspire change in the beauty industry. That's why we founded SIXPLUS.
BRAND ORIGIN
"SIXPLUS" Origin: "The unique of your identity beyond the average person (from Zhuangzi,Analects). Meaning: spread good morality to the whole world
New York Design Consultant
Kalen Cheng has served some recognized brands in fashion & beauty such as Ralph Lauren and Estee Lauder.
Javier Maria has served various established companies in the creative field including fashion event Vest and art/culture-focused Onto Magazine.
BRAND CULTURE
VISION: Technology makes life more beautiful

MISSION: Achieve goals by being customer-oriented and always innovative with a positive, minimalist and enthusiastic approach to life.

VALUE: People-oriented, follow the order of nature, embracing change and pursuing excellence.
CRAFTSMAN SPIRIT
With 12 years experience in makeup industry, our brushes are handcrafted with high-quality raw materials, rigorously guaranteeing every craftsmanship of the brushes, producing high-quality makeup brushes with stylish appearance, and ranking first in the Japanese online market for 6 consecutive years.
"I HOPE THAT MAKEUP LOVERS WILL BE PARTICULAR ABOUT THEIR BRUSHES AND LOVE THEIR FACES EVEN MORE. I WOULD BE HAPPY IF YOU USE THESE BRUSHES TO DISCOVER YOUR NEW COSMETICS AND CHARM."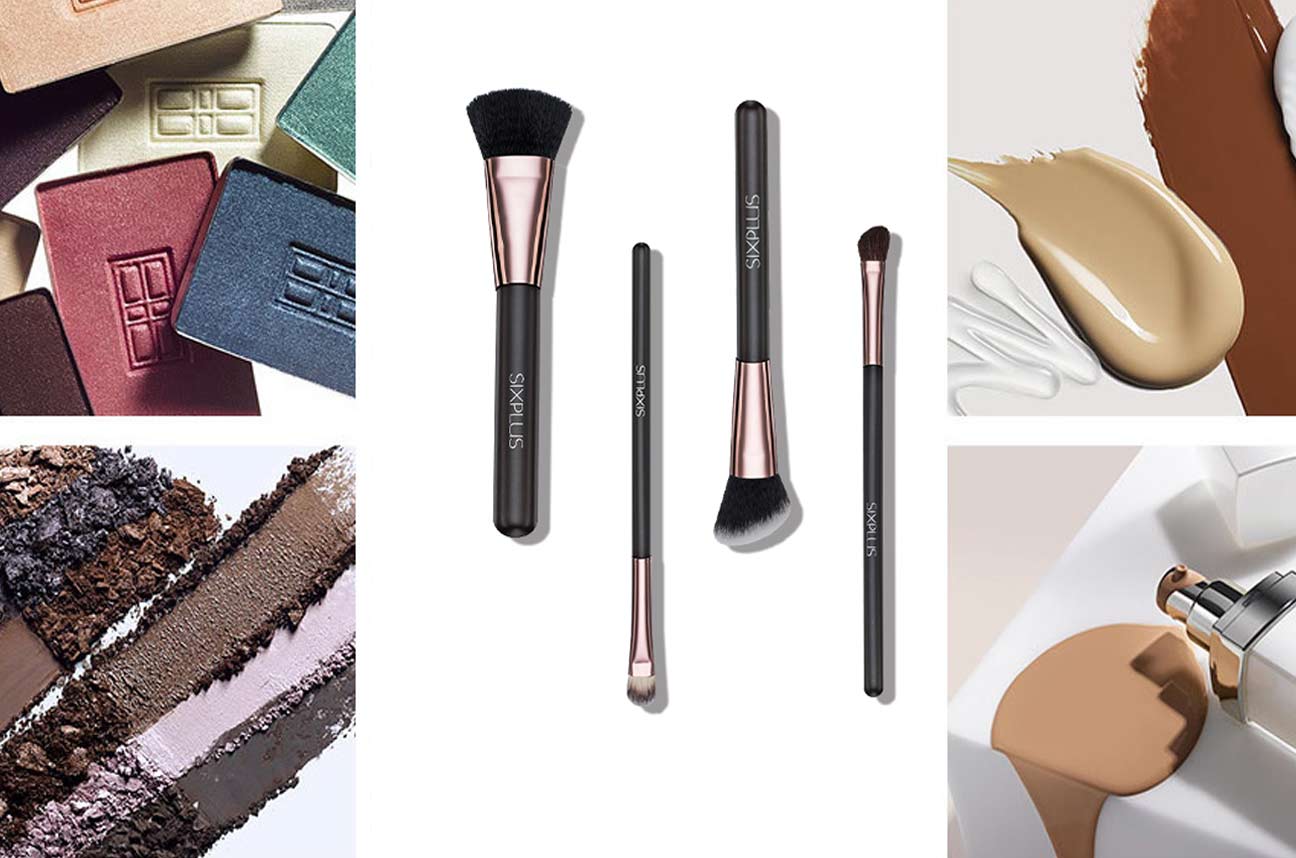 In 2009, brand founder Louis Guo founded SIXPLUS. It is a global beauty and cosmetics accessories brand specializing in makeup tools such as brushes and sponges. 

In 2016, in order to better guarantee the confidentiality and quality of our products, we have established our own factory, and now we have a professional makeup tool manufacturing team and we have the support of a team of well-known American designers to design and produce more professional and high quality products which are released onto the beauty market.

In 2016, Wuhan SIXPLUS Beauty Makeup Co., Ltd. ("Wuhan SIXPLUS Beauty Makeup"), as a wholly-owned subsidiary of Shenzhen SIXPLUS Beauty Makeup Co., Ltd is established. 
In 2016, a branch office was established in New York.

In 2017, a branch office was established in Korea.

In 2018, a branch office was established in Hongkong.

In 2019, we develop online and offline markets in China mainland.

In 2020, a branch office was established in Japan.
The establishment of companies and offices in various countries will increase the pace of the company's development and achieve rapid business development.

At the present, SIXPLUS has main retail sales platforms include Amazon, Rakuten, Yahoo, Qoo10, Lazada, Zalora, Shopify and other multi-channel multinational cross-border e-commerce platforms. We have deep cooperation with well-known e-commerce companies such as Jollychic, SHEIN, and Globalegrow E-Commerce, and we are present in over 400 stores in the Tokyo shopping district, such as Tokyu hands, Don Quijote, Loft, Plaza, etc.

FREE SHIPPING
Free shipping on all orders.
New York Design
Our design consultants have years of experience in the fashion and beauty industry to bring you the most on-trend styles.
CRAFTSMAN SPIRIT
Using high-quality raw materials, our brushes are handcrafted through dozens of processes to bring you unique creations.
PERFECT GIFTS
All of our products make perfect gifts. Everything comes beautifully wrapped by default.